They Promised Her the Moon – True Story of the Almost First Female Astronaut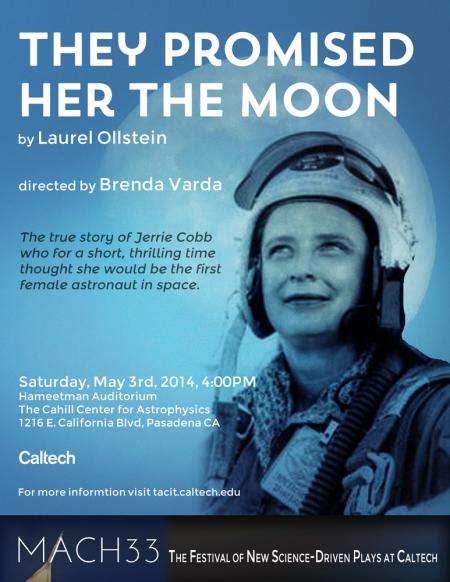 full length – no intermission
Minimal set – flexible casting – Can be done with –  3 m 3 w
NASA 1960: The year of "THE RIGHT STUFF" and Mercury 7… was also the year of a little known story– a group of American female astronauts preparing in mind and spirit to give their lives for the opportunity to go into space but never had the chance.  They Promised Her the Moon is based on the true story of Geraldyn "Jerrie" Cobb, an accomplished pilot and the first woman to be tested for space flight, who for a short time thought she would be the first woman astronaut.
This story of the women pilots who trained for NASA's first space flight alongside John Glenn and Alan Shepard is a compelling account of a part of American history that has been forgotten.  Presents the political story that killed the space program for women in the United States for many years.
Told in a stylistically and visually interesting way from the confines of an isolation tank in which we see Jerrie's life unfold through a non-linear time line and a clever use of place created by deceptively simple effects that rely on the physicality and ingenuity of the performers.
Moon is a breathtaking look at the intensity of an Oklahoma girl's dream.
Laurel Savannah