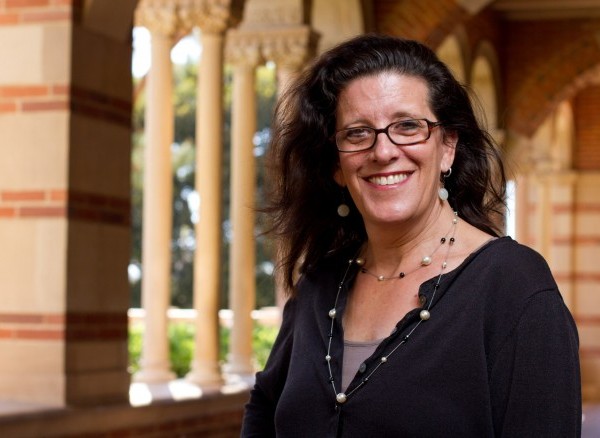 Laurel Ollstein is an award-winning writer, director and teacher.
Her plays have been produced across the United States playing to sold out houses and winning awards such as best over all production in the Midtown International Theatre Festival in New York City. Her work has been featured in festivals from New York to SIngapore.  She regularly does play development and productions in Los Angeles and New York.
Ollstein also writes essays, memoirs, screenplays and television scripts; directs plays; and serves as an adjunct professor of writing for several universities.
An artist with range has tastes to match
Playwright Laurel Ollstein is a bit of a cliche in this town: Actress-writer-director. But she's the real deal. As a member of the Hollywood ensemble company the Actors' Gang, she has worked as an actress and playwright in many collaborative pieces, including "Hysteria," "Blood Love Madness" and "Insomniac." Her award-winning one-woman play on writer Dorothy Parker was produced across the country and she currently teaches playwriting, acting, directing and screenwriting. Her next role is that of writer and co-director of "Showing Our Age," a play exploring the myths and realities of aging and based on material she gathered through interviews at 40 senior centers. 
Liesl Bradner, Los Angeles Times
As a long-time member of The Actors' Gang (founded by Tim Robbins), Ollstein developed several new plays and collaborated in numerous productions as a performer.  She continues ongoing involvement in the artistic and educational programs of the Virginia Avenue Project, About Productions, Cornerstone Theatre, Ghost Road Theatre, Ensemble Theatre Los Angeles and Playwrights' Arena.
Ollstein also creates her own devised theatre, community-engaged work that is ensemble driven and documentary theatre.  She has initiated and received funding for projects including an extensive, ongoing project with senior citizens of Los Angeles, garment industry workers, students in Los Angeles Unified School District, holocaust survivors partnered with university theatre students and professional playwrights and more.
Ollstein's essays and memoir pieces have been published by The Middle English Literary Group, the Sea Oats Review, Tiny Lights and Fresh Yarn.  Several of her screenplays have been optioned for development.
Ollstein holds an MFA in playwriting from the School of Theater, Film and Television at UCLA.  She was awarded the Faith Broome Playwright in Residence for the University of Oklahoma and has extensive teaching experience including appointments as adjunct faculty at the University of California, Los Angeles, Loyola Marymount University, CalArts  and Redlands University among others.
Selected Awards, Grants, Memberships
2012   White Buffalo Award received from The University of Oklahoma for outstanding service and contributions to the School of Drama
2011   Winner Faith Broome, University of Oklahoma Playwright in Residence Competition
2010   Winner TRU Voices Reading Series
Culver City Cultural Affairs grants for STAGES
2009   Finalist New Works of Merit Playwriting contest
Culver City Cultural Affairs grants for STAGES
TRU Honorable Mention Reading Series
2008   OPA! Midtown Theatre Festival Best Commercial production, Best Ensemble, Best music and Lyrics
Culver City Cultural Affairs grants for STAGES
2007   National Endowment for the Arts (NEA) grant for Showing our Age
Culver City Cultural Affairs grants for STAGES
California Arts Council grant Showing our Age
2006   Culver City Cultural Affairs grants for STAGES
2002   OCPA Stage to Page Contest – first place
OVATION AWARD – The Exonerated with The Actors' Gang
2000   A.S.K. Playwriting award awarded by the University of California, Los Angeles (UCLA)
UCLA Affiliates Scholarship
UCLA playwriting recruitment scholarship
Marty Klein Comedy Writing Award
Kenneth McGowan Award in Playwriting
1998   Best Ensemble Performance, Backstage West, Garland
Best Ensemble Performance, LA Weekly, Medea/Macbeth/Cinderella
1996   Winner Playwrights on the Verge
California Arts Council Grant for teen playwright workshop with The Actor's Gang
LA Weekly Nomination for BEST One Person Show for Laughter, Hope and a Sock in the Eye
1995   Foundry Series Playwrights Award
Member, Actors' Equity Association 1984 – Present
Member, SAG-AFTRA Screen Actors' Guild 1981 – Present
Member, Dramatists' Guild 1994 – Present
Member, About Productions 1998 – Present
Artistic Associate, Playwright's Arena 1996 Present
Member, Actors' Gang 1990 – 2005