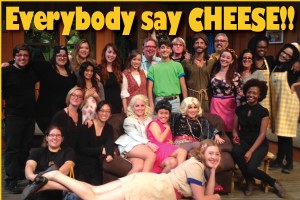 Los Angeles Pierce College Theatre's Department Chair, Professor Michael Gend, today announced that two students who were part of the company of our recent production of Laurel Ollstein's hit comedy, "CHEESE," have been nominated for Irene Ryan Acting Scholarships in the American College Theatre Festival.
Please join us in congratulating Elyse Hamilton (Cindy) and Meagan Truxal (Billy). Both have been nominated and are invited to compete in the 2016 ACTF Region VIII Festival in Hawaii.
In addition, two of our student designers have won Meritorious Achievement Awards for their contributions in non-acting areas.
Congratulations to Vanessa Stewart (Costume Design) and Victor Murillo (Lighting Design) for their wins. Both are also invited to compete at the next level in the 2016 festival.