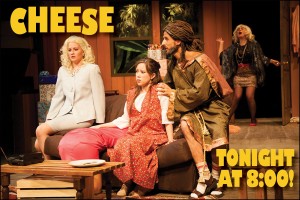 Congratulations to our wonderful cast, crew, designers and director Laurel Ollstein on last night's smashing opening of the fabulously funny comedy, "CHEESE." And thanks to our packed house for their support! We do it all again tonight and tomorrow afternoon (both performances are SOLD OUT), so unless you have tickets already, you'll have to wait until next weekend (April 3 & 4 at 8pm and April 5
at 2pm). Call 818-719-6488 or purchase online at http://cheeselapctheatre.brownpapertickets.com/
This show is the hottest ticket in the valley right now, so make your reservations for next week ASAP! You don't want to miss this amazing production! Pictured: Meagan Truxal, Elyse Hamilton, Vincent Cusimano and Javiera Torres. Photo by Lynn Levitt.
— withMichelle Kimsey-Bailey, Ethan Hollander, Abby Soskin and 15 others at "CHEESE" at LAPC Theatre.